Cleveland, Ohio-based pressure washer repair specialists, Crown Cleaning Systems are now offering a fully equipped fleet of repair trucks to help meet urgent repair demands across the region. The company's repair team offers the highest levels of on-site service with fully-stocked repair vehicles that bring clients high-demand accessories for the most popular machine brands.
For today's industrial firms, it's imperative that their facilities are maintained according to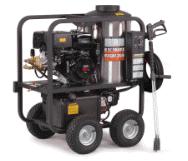 the very highest of marketplace standards. This means they must have priority access to pressure washer products that are in peak condition. When a repair issue arises, companies must also be able to communicate with pressure washer repair experts who can utilize cutting-edge systems to ensure effective maintenance within industry-leading turnaround times. Now, Crown Cleaning Systems is setting the industry's top standard with their mobile pressure washer repair force.
The company's repair team is trained and equipped to handle any maintenance challenge. They've worked with the latest systems from brands such as Landa, Pressure Pro and Kärcher and can diagnose and resolve issues quickly and effectively to keep client companies operating to peak performance. It's a service that's helping many leading firms across Cleveland to improve their in-house efficiency and reduce machine downtime.
Crown Cleaning Systems continues to update their fleet and inventory to meet a growing number of client maintenance requests. To learn more about the latest repair services from the experts at Crown Cleaning Systems, please contact their company offices today or book your repair directly through the company website at www.crowncleaningsystems.com